Bone and Joint week
Published on: Wednesday 13th October 2021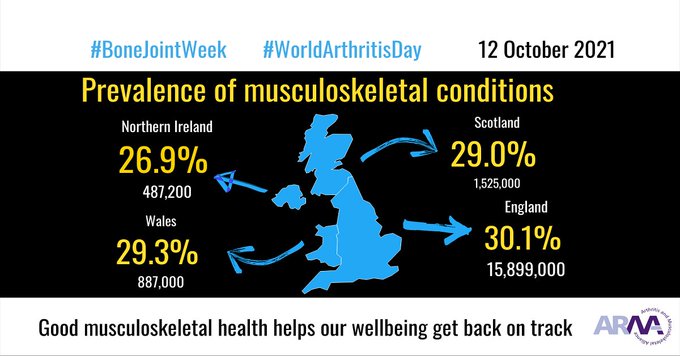 Supporting good Musculoskeletal health supports better health and wellbeing all round.
Every October, Bone and Joint Week helps get people thinking about one of the most widespread and pressing health issues of our times – musculoskeletal health. Now more than ever, good musculoskeletal health helps our wellbeing get back on track. As we rebuild our activity and how we work, eat and feel, having the best musculoskeletal health helps us live better.
After more than a year of uncertainly, stress, inactivity, gym and swimming pool closures, weight gain and changed routines, many struggle with their physical and mental health.
Supporting good musculoskeletal health facilitates better health and wellbeing for individuals, life goals, work, helps communities thrive, advances equality, can help painful conditions, reduces disability, helping people move more and keep well mentally. see http://arma.uk.net/membership/bonejointweek/